The Ultimate Guide to Moving to Austin Texas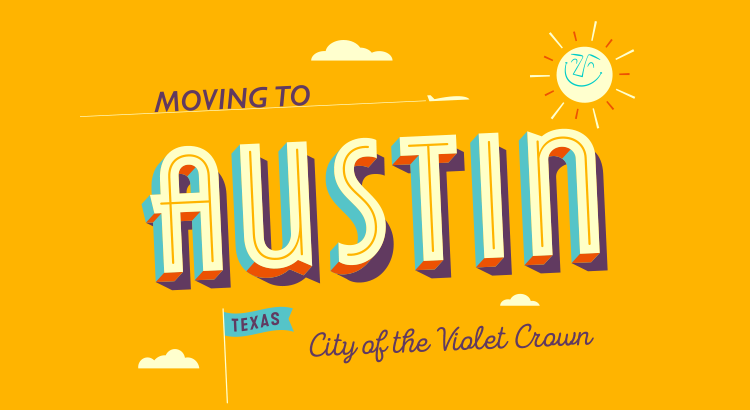 Austin Texas is one of the top destinations in the U.S. and has an excellent reputation for its booming economy and relatively low cost of living. Many people from different parts of the country are leaving their native states to seek a higher quality of life in a setting that has a rich history and offers plenty of opportunities to different types of individuals.
The city continues to expand and grow, inviting transplants to relocate to the city and enjoy all it has to offer. Its long list of attractions, different communities, and major employers make it a hot spot. According to bizjournals.com, it has the fourth-largest population growth in the country. This provides a promising future for residents and more opportunities to explore, play, and succeed.
This guide is designed to provide insight into the different steps to take when relocating to Austin, Texas. Although it can feel daunting and overwhelming to move to a new location, there are ways to remain organized and in control of the process to enjoy a smooth transition. The guide makes it easy to follow a checklist and remain organized at each stage of the moving process for those who are moving specifically to Austin.
Our guide provides you with everything you need to move to Austin and start a new life in a location that is highly desirable for all types of individuals. You'll know what tasks to complete in the weeks leading up to the move to ensure nothing is overlooked and you're fully prepared to put down roots in a new destination.
Create a Moving Binder
Once you've finalized your plans to relocate to Austin, Texas, you'll need to have a place where your checklist, to-dos, and documents are all in one place. This will prevent anything from becoming lost, whether you have receipts for your moving truck or closing documents.
Invest in a large, high-quality binder that contains all of your research, budgeting, estimates, and detailed plans. This will make it easy to reference information and monitor your progress. The binder should include pockets where you can store documents and paperwork that is readily available and easy to find.
The binder should also include separate tabs to categorize the documents and keep them organized. The tabs can include categories like "New Home," "Receipts," "Transportation," "New School," "Job," etc.
Update the binder every week to ensure that it contains everything you need for a successful move.
Your moving checklist should also be stored in the binder to ensure you can check off whenever you complete a task. This will allow you to quickly review what tasks still need to be completed in each stage of your move. Storing Post-it notes, pens, and paper clips in the binder will also allow you to quickly jot down reminders and have what you need.
Design a Budget
Many people make the mistake of failing to create a budget when moving to a new location. There are a lot of expenses involved with moving, which should be accounted for to ensure you can afford to transport your family members and personal belongings to your new home.
There should be three parts of your budget, which include expenses you'll need to pay for the pre-move, during the move, and after the move. The expenses should include the cost of renting a moving truck or hiring professional movers, cleanup of the current residence, food and fuel during the moving process, the cost of the new home, the cost of moving supplies like boxes and packing tape, etc.
The cost of each move varies, depending on how much you need to move and the number of people who are coming with you. Your current location of where you're leaving will also influence the cost, depending on how far you'll be transporting everything.
A lot of purchases you make while moving will require deposits or paying in advance, which includes hiring professional movers or renting a moving truck. You may also need to pay to hire a professional company to transport your vehicles, motorcycles, or boats.
Research Different Areas in Texas
One of the most important parts of moving to Texas is knowing where you'll be happy living long-term. There is a long list of neighborhoods and communities present, which makes it easy to have more of a selection of where you'll feel most comfortable and accommodated. It's important to start by considering if you'll enjoy living in or outside of Austin.
Living in Austin
Living in Austin is ideal for individuals who plan to work in the city and don't want to spend a lot of time commuting. Some of the most desirable neighborhoods include Barton Hills, Mueller, Cherrywood, West Lake, Tera Vista, and Travis Heights.
When you live in Austin, you have access to more stores, boutiques, parks, and restaurants. You can rely on more public transportation services to get around for added convenience, which can reduce your cost of living. You can also attend more festivals and events that are hosted each week, making it easier to stay busy and active without having to travel too far.
There are still a few drawbacks to living in Austin to consider. The city is home to 964,177 people, which means it's congested and can be noisy at all times of the day. You can also expect to pay more for housing, which forces many individuals to resort to living in a home that has less square footage or is older. This isn't always ideal for those with families who want extra elbow room to stretch out.
Living Outside Austin
It's also important to consider if you could benefit from living outside of Austin by reviewing the different benefits available. There are a variety of neighboring cities and communities that have a lower cost of living and affordable housing. This can allow you to live on a larger lot and enjoy views of the Hill Country. Many of the surrounding areas also have access to the lakes, allowing you to spend time on the water during the warmer months of the year.
Living outside of Austin means you'll spend more time commuting, making it necessary to research the distance of the area to your place of employment.
Deciding Where to Live in Texas
When you're in the process of deciding where you'll rent or buy a home in Texas, there are several questions to ask yourself to ensure you can narrow down your selection. Traveling to Austin in advance is necessary, if possible, to ensure you can get a firsthand look at each location.
Unless you work remotely, you should start by considering different regions of Austin that are in proximity to your place of employment. Most people don't want to spend more than an hour commuting, making it necessary to calculate the distance of each area to your job to avoid spending too much time on the road.
You should also take your personal interests into account, whether you enjoy spending your weekends exploring local museums and art galleries or you prefer to frequent local parks. If you enjoy staying active, you can look into areas with hiking trails, rock climbing, and even adult leagues. If you enjoy frequenting sporting events, you may prefer to live in proximity to major arenas and stadiums where the Austin Spurs or the Texas Longhorns play.
If you have children you plan to enroll in public or private school, a key step in preparing for your move is to research communities with the best school districts. You'll need to review their reputations and look into the average class size to ensure your children will receive the attention they need to thrive. Fortunately, most schools in the Austin area are highly rated due to their small class sizes and independent school districts, which receive private funding.
Even if you don't have children, choosing to buy a house in an area that has a great school district can have a positive impact on your home's value and will prove to be a desirable and sought-after area over time.
Looking for Texas Homes
Once you settle on a specific location where you prefer to live in the Austin area, your next step requires finding the right home to rent or buy before you arrive. Although you can attempt to find a residential property on your own, you'll have more exposure to properties available on the market with the help of a local real estate agent who is reputable and highly knowledgeable about the area.
A real estate agent can help you start the process by deciding if you want to rent first and buy later, depending on your goals, plans, and current or long-term needs. Most of this work can be done upfront without even needing to be in Austin, making it necessary to start as soon as possible as you prepare for your upcoming move.
You can communicate your wants and needs with the real estate professional to ensure they can begin researching local listings and present you with the best options. You may prefer to have a house with a pool or are interested in renting a home with four bedrooms.
One of the conveniences that come with shopping for your next home is doing everything virtually while working with your real estate agent. Homes can now be shown virtually, which means you can find your next residential property without having to travel back and forth to Austin multiple times. If necessary, the entire buying process can be done without being physically present in Austin, making it an extremely smooth, quick, and efficient process from start to finish.
Most real estate agents recommend getting pre-approved for a home loan in advance to ensure you're ready to start shopping around for a home. If you attempt to make an offer on a home but aren't pre-approved through a bank or financial institution, it can cause you to lose the home to another buyer who has already secured funds.
Once you're pre-approved, schedule a time to visit the Austin area and spend a few days touring different homes that meet your specific criteria.
Research Different Services You'll Need
Once you begin the process of moving to Austin, you'll quickly realize there are a lot of different services you'll need to transport your family and personal belongings to the destination. It's not always as simple as simply moving a few boxes to your new home.
Most people resort to using professional moving companies to do the heavy lifting with transporting their furniture and personal belongings to their new residence. Although there are a lot of different moving companies available, not all can be trusted or are reliable. Look for vetted, state-to-state moving companies that have insurance and offer guarantees on the services they offer. This will ensure your items are protected and are fully reimbursed and replaced if anything is damaged or missing when they arrive at the destination.
Although it may be tempting to hire cheaper moving services to save on the cost of using the professionals, this should be avoided. Hiring movers who offer low prices that are too good to be true can lead to falling victim to scams. It can also cause you to lose thousands of dollars if your items don't arrive in one piece.
You can also look for insured and licensed transportation companies for your vehicles and vessels to make it a smoother and more convenient move that doesn't require relying on family members or friends to assist.
Create an Inventory of Your Household Items
It can be easy to forget how much you own until it's time to move and unload everything into a moving truck or shipping container. One of the key steps to an organized move is taking inventory of what you own, which will allow you to determine how many shipping materials, storage space, and moving trucks you'll need to pick up and move.
Part of the packing process requires purging every room of the house to ensure you only take what is necessary and what you use consistently. This will allow you to spend a lot less time and money packing items that you don't need and have no use for in your next home.
You can also establish a key that allows you to color-code each room when starting the packing process. For example, all boxes for the kitchen can be labeled with yellow colors, or the living room can be labeled red, making it easier for the movers to know where to place each box when it arrives at the new house. This will make it easier to immediately unload the right boxes and have everything you need to get settled without digging around for specific items.
Start by evaluating each room of the house to avoid feeling overwhelmed by the process. Check your closets, drawers, under the beds, etc. You'll also need to spend time taking a look at your basement, garage, and other areas of the property where you have items stored.
You may want to sell some of the high-value items or even host a garage sale, which will allow you to have extra funds to use toward your move.
If the previous steps listed are completed prior to the six-week mark before your move, it will allow you to avoid a lot of stress and have a more enjoyable process without complications or potential issues arising.
6 Weeks Before the Move
Six weeks before your moving day, you'll need to order all of your moving supplies to ensure you can begin packing your personal belongings. Order more than enough bubble wrap, moving boxes, and tape to ensure you can avoid additional trips to the store, which will interrupt your process.
During this time, you'll also want to notify schools of your children's arrival and enroll them at each establishment where they'll get their education. Obtain school supply lists to ensure they have what they need.
Contact your auto and homeowners insurance agent to update them on your new address, which can affect your policy and how much you pay. You may also need to find new companies to work with if they don't offer their services in Austin.
If your move is work-related, keep a record of the tax-deductible purchases you make that are needed to relocate.
4 Weeks Before the Move
When you're a month away from moving, it's time to get your car serviced to ensure it can handle the upcoming trip to Texas. Check the tires, change the oil, and add more windshield wiper fluid to avoid potential mechanical issues that can occur on the road.
This is also the time to schedule to have your car shipped with a transportation company. You can also contact the moving company to confirm the day and time of their arrival at your property.
If you have a gap in where you'll live when moving from your current residence to your new home, you'll need to find a hotel or Airbnb. You can also reach out to family members or friends to ask to stay for a short period of time during your transition.
Most people notify their family members and friends of their move one month before they depart. This will allow you to have enough time to say your goodbyes and plan an upcoming party where you can enjoy a send-off from your loved ones.
3 Weeks Before the Move
Three weeks leading up to your move, you can notify your service providers to shut off your service. This includes landscapers, housekeepers, and utility companies. This is also when you can begin researching and setting up the services at your new residence to ensure they're ready when you move into the home.
Contact USPS to have all of your mail forwarded and pay any outstanding bills or tickets. You'll also want to change your mailing address on your Medicare and social security accounts.
If you have children, find a sitter or childcare service who can watch your kids during the moving day. This will allow you to have peace of mind knowing they're in safe hands when you're managing multiple tasks during the day. You can also schedule to have a sitter in place for pets to prevent them from escaping, as doors and gates are left open while loading up the moving truck.
2 Weeks Before the Move
Two weeks prior to moving to Austin, you can begin ordering new furniture and decor for your new residence to ensure it arrives around the same time you reach your new home. Review the blueprints of your new home and take a look at the measurements of each room to ensure the new furnishings fit in different parts of the house. Look at magazines or Pinterest to gain inspiration for how you want to decorate your new residence and make it feel like your own.
You can also research local painting companies in the area to hire professionals to paint the interior or exterior of your home. Gather paint samples at a local home improvement store to ensure you're happy with the colors the paints use on your new walls.
Most employers request employees to request time off of work at least two weeks in advance, making it necessary to schedule your days off to ensure you have time to move and travel to Austin.
1 Week Before the Move
Once you're a week away from moving to Austin, it's time to begin deep cleaning your house to ensure it's ready for the new residents. You can do a walkthrough with the landlord to ensure everything is in good shape and you aren't charged extra cleaning or repair fees after you move out.
This is also when you'll need to purchase additional moving supplies, drop off donations, pack essential products that you use each day, and handle trash removal and recycling.
The Day Before the Move
You can expect to spend the day completing last-minute tasks and errands the day before your move. Pack a suitcase to keep with you during your travels, which should include a change of clothes, medications, keys, and other essentials. You should also have a bin or container with essential items you'll need the moment you arrive at your new home, including toilet paper, hand soap, snacks, paper towels, etc. Extra cash is also useful to have available for tipping movers or anyone assisting you with your move.
The Moving Day
Once your moving day has finally arrived, you should have extra water bottles available to stay hydrated. Take an inventory of your belongings to ensure everything is accounted for and is easy to find once it arrives at your new residence.
Prepare to have the keys to your previous home available to ensure you can hand them over to the landlord or new residents. Perform a final sweep of the entire house and property to avoid leaving anything behind.
The First Week After You Move
As you settle into your new home in Austin, Texas, it can be easy to stay busy as you attempt to make the place habitable and comfortable. Start unpacking boxes that contain essential items like dishware, clothing, hygiene or bath products, and cooking supplies.
Give yourself time to explore the neighborhood by meeting your new neighbors and taking walks, which will make it easier to feel more at home as you become more familiar with your new surroundings.
Hire a locksmith or purchase new locks for your home to secure the building and feel more at ease as you sleep at night. This is also when you should hire new window treatments for added privacy in each room.
If you have infants in the home, it's important to immediately babyproof the areas where the children will spend time to avoid accidents and injuries. Remove all boxes or packing materials, cover electrical outlets, remove any choking hazards, and add baby gates to stairs.
Schedule an appointment at the DMV to change your driver's license. You can also register to vote in the state of Texas and establish legal docile.
Although there are plenty of steps to take and tasks to complete leading up to a major move, it doesn't have to be complicated, stressful, or overwhelming. Following the right steps during the timeline and recruiting additional people to help with the process can make it a smoother process that is easier to navigate and tackle each step of the way.
Knowing what to expect in advance can avoid surprises and allow you to remain in control of the process. This will make it easier to keep your costs low, avoid surprises, and have a smoother transition that allows you to spend more time looking forward to living in Texas.