Search Dripping Springs Condos
Find the latest condos in Dripping Springs Texas today. To learn more about condominiums for sale in Dripping Springs TX or schedule a private condo showing, call/text (512) 795-1973 or email your expert Dripping Springs real estate agent today. Whether you are an expert condominium buyer or a first-time home buyer, create an account to easily track your Dripping Springs home buying process and progress. Read more about condominiums in Dripping Springs below.
Dripping Springs Condo Listings on MLS
September 29, 2023
Open 9/30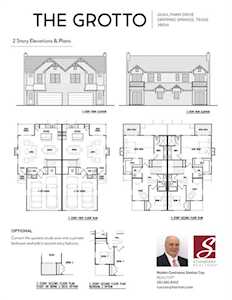 Address Withheld
Dripping Springs, TX 78620
Buying a Condo in

Dripping Springs

?
Contact your
local RE/MAX real estate agent
& find your
Dripping Springs
Texas condominium today. We are
Dripping Springs
Texas housing experts.
What is a Condo
A condominium, colloquially known as a condo, is a type of residential unit within a larger complex or building that is individually owned. This form of housing straddles the line between apartments and single-family homes, offering a unique blend of both. Unlike an apartment, which is typically rented, a condo is purchased, giving the owner title to the interior of their unit, while the exterior of the building, the land, and the shared common areas are collectively owned by all unit owners. These common areas can include amenities such as swimming pools, gyms, gardens, and rooftops.
Condominium owners pay monthly fees, called homeowners association (HOA) fees, for the maintenance and improvement of these shared spaces. Condominiums are popular in urban areas due to their relative affordability compared to single-family homes, and they offer the advantages of homeownership without the responsibilities of maintaining a standalone property.
Dripping Springs Real Estate Agent
Are you thinking about purchasing a condominium in Dripping Springs? As a local Texas REALTOR®, I can assist you in the search for a Dripping Springs condo here in Hays County.
I want to earn your trust and be your real estate agent in Dripping Springs. I will show up on time, guide you through the complete home-buying or home-selling process, and will honor & respect our fiduciary relationship.
I have the latest MLS listings for condos in Dripping Springs, all Hays County condominiums for sale, which schools are closest to Dripping Springs condos, and more. If you need a quick tutorial on creating custom home searches for Dripping Springs condos or any other property searches, check out this helpful real estate search video guide. You'll be a real estate listing search expert in no time!
Contact Real Estate Agent Christopher Arnell to answer all your real estate questions. If you become my client, I am here to protect and promote your real estate interests. I want to be your Dripping Springs realty expert in Austin TX and the Austin Suburbs.