Visiting Austin Texas
Posted by Christopher Arnell on Friday, November 25, 2022 at 8:06 AM
By Christopher Arnell / November 25, 2022
Comment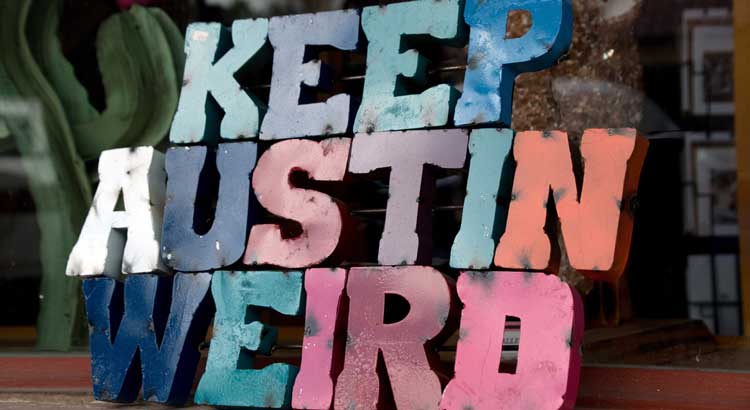 If you're visiting Austin Texas with an eye to moving there, you're far from alone. Moving to Austin Texas has become an increasingly attractive proposition to many people over the past couple of decades, and this popularity is reflected in the Austin real estate market, which can be tight and competitive although there are still some bargains to be had as well. With well over 2 million people in the metro area, the Austin Texas population shows no sign of shrinking. Luckily, there's still room to grow, and with patience and diligence, you can find your perfect place to live as well.
What to Do in Austin
Every cinema aficionado already knows about the Alamo Drafthouse and will be making a beeline there, but what else is there to do in Austin? The answer is just about anything you like, and a movie at the Alamo is only one of many unique things to do in Austin. History buffs won't want to miss the LBJ Presidential Library and the Bullock Texas State History Museum while those who have some spring in their step may want to try two-step country dancing. Lessons are on offer at a few places in Austin. Rainey Street is a great place to go if you're looking for a party. Head to Sixth Street for live music. Of course, there are also plenty of festivals, including the massive SXSW.
If the outdoors is more your thing, check out Barton Springs Pool and Zilker Park. The Barton Creek Greenbelt offers trails for walking, running and cycling. There are also Lake Travis and Lake Austin, both Colorado River reservoirs.
Austin's also known for great food, craft beer, and people-watching. Even if you're just visiting but especially if you're thinking of moving there, pick some neighborhoods based on the guide below and just spend an afternoon walking around and hanging out. It's a great way to start really getting to know the city.
Beat the Heat--and Other Seasonal Info
When is the best time to visit Austin Texas? It really depends on what you're after. People might tell you anytime but summer unless you're especially fond of very hot, humid weather, but if you're considering moving there, that might be the best time after all since it can really give you a taste of what to expect.
The great news is that even if you aren't someone who's crazy about heat and humidity, there is a tradeoff. When all your friends who live further north are shivering through grim, gray winters, you'll enjoy a winter season that's short and mild. If you have time, you might want to check out Austin Texas in both summer and winter to get a better handle on the range of weather you can expect.
Finding a Job in Austin
If you're lucky, you're moving to Austin because of a job, either a transfer or a position you've already accepted. However, if job hunting is on your to-do list for a move, take heart: In the city of Austin jobs are plentiful and well-paid, especially if you're in the booming tech industry. If tech's not your field, there's plenty of other work as well, and Austin's low unemployment rate bodes well for the motivated job seeker.
Austin Neighborhoods
One of the biggest decisions that you'll need to make is where to live. To start with, take a look at an Austin Texas map while reviewing the descriptions of some of the most popular neighborhoods below.
However, even with this information, it can be really hard to get a handle on the feel of different areas without visiting the city. And even if your plan is buying a home in Austin Texas, you may want to start out as a renter so you don't have to rush through the process and you can get a better idea of what the different parts of the city have to offer.
As you'll see from the overviews below, it's hard to go wrong in your choice of neighborhoods. There are many unique ones throughout Austin, and they all have something great to offer.
Downtown
If you want to be within walking distance of both leisure and tech work and feel like you're really in the heart of a city, downtown Austin might be the neighborhood for you. There are plenty of restaurants and nightlife, and you'll be near all the iconic sights of Austin, like the Texas State Capitol. Be aware that you won't find the cheapest home prices in Austin Texas here. The real estate in this area is largely condos and apartments on the luxury end, but in addition to the convenience, many of the units also offer beautiful views.
South Congress
Across the river from downtown but still within sight of the Texas State Capitol, South Congress is a neighborhood beloved by tourists and locals alike, drawn by the art, the music scene and the restaurants. Prices are rising in the area, but it's still got a hip, creative vibe, and while apartments are available here, there are also plenty of houses in the area. If you prefer a house to an apartment but still want to be close to downtown, this might be the neighborhood for you.
Clarksville
Another area that's not too far from downtown but that has a vibe all its own, Clarksville is also one of Austin's most historic neighborhoods. It's also got some of the most iconic shops of the city: Waterloo Records, Book People and the original Whole Foods. This is a nice walking district with plenty of art galleries, restaurants and boutiques to pop in and out of. Like most of central Austin, it's another one of the pricier parts of the city, but the houses and apartments there are beautiful.
Old West Austin
If you're looking for something historic with an interesting urban vibe but a little quieter than some of the nightlife-heavy neighborhood, Old West Austin may fit the bill. It's actually a collection of three neighborhoods, one of which, Old Enfield, has many of the city's oldest homes in the colonial style. Pease Distict Park has courts for playing tennis and volleyball.
Cherrywood
A quieter area originally developed in the 1940s and 1950s, Cherrywood is conveniently located not too far from downtown but has a more laid-back feel to it, and its amenities include the family-friendly Patterson Park, beloved by locals. It's a residential area, but there are still plenty of coffee shops and some great cafes and restaurants when you feel like getting out without leaving the neighborhood.
Hyde Park
Hyde Park came into existence as the first Austin suburb more than 100 years ago, but don't imagine that means a succession of dull cookie-cutter homes. Not too far from the University of Texas at Austin, it offers a mix of Tudor-style, Victorian and cute bungalow homes. Its shady sidewalks make it another great place for walking around, and there's a pool, playground, tennis and basketball courts and more at Shipe Park. There are plenty of cafes and eateries as well.
East Riverside
If water's your thing, you may want to check out East Riverside, near the Colorado River and Lady Bird Lake. You can walk, run or cycle along the boardwalk or rent a kayak to get out on the water, and downtown is just a short drive away. You can also enjoy the area bars and restaurants with fewer crowds than you'd find in the downtown area. There's a massive skate park at Mabel Davis District Park along with a playground, walking trails and more.
Tarrytown/Deep Eddy
Texas's oldest outdoor swimming pool, dating from 1916, is at the heart of a Deep Eddy recreation area, Eilers Park, that includes trails for cycling and walking along picnic areas. Tarrytown is a historic area that feels like a small town within the larger city. Tarrytown and Deep Eddy are also next to the part of the Colorado River that's often referred to as Lake Austin, so this area is another good choice if you love being near the water.
Zilker and Bouldin Creek
This is another old neighborhood and one that boasts the 350-acre Zilker Park, one of the great places to visit in Austin Texas even if you don't end up living nearby. An older and very popular South Austin neighborhood, this is a particularly good choice if you want to balance the urban buzz with the ability to get into some serious green space.
Mueller
Another great choice for the green space fans, Mueller boasts both Lake Park, with numerous walking or running trails around the lake, along with one of the city's best farmers markets. You probably won't find the cheapest home price in Austin Texas in this neighborhood, but if it's within your budget, it's a charming area to settle down in.
North Loop
If you're into all things vintage, you won't want to miss a visit to North Loop whether or not you ultimately decide it's a great place to live as well. It's close to the University of Texas, so it's also popular with students and university staff. There are also some terrific bookstores in the area and plenty of great restaurants and bars.
University Area/The Drag
Unsurprisingly, you'll find lots of students here, but there's plenty here for anyone whose student days are long behind them as well. This is an area of indie shops and cheap eats as well as another terrific place to catch some live music in some of Austin's most beloved bars.
North Lamar
It's further out than some of the other neighborhoods and has some strip malls, but North Lamar has one great thing going for it whether you're a tourist or looking to move here: an enormous selection of terrific international cuisine, from Chinatown Center to eateries offering Pakistani, Vietnamese Middle Eastern and Indian food along with some terrific regional Mexican food and, of course, Tex-Mex. Bonuses for potential Austenites are its friendliness and affordability.
East Sixth Street and Holly
Another of Austin's historic districts, this neighborhood also has a rich mix of restaurants, from food trucks to trendy dining spots. Striking murals, the "Museum of Weird" and several more terrific music venues are all features of this area. Austin's first university, Huston-Tillotson University, is also located here.
West Lake Hills
West Lake Hills isn't a cheap place to live, but it's beautiful, and paying a visit there is entirely free. You'll want to take in the view that rewards a climb of more than 100 steps on Mount Bonnell. This is also the place to go if the flatlands in other parts of the city have got you down.
Should you move to Austin, Texas? No one can answer that for you, but a visit will help you decide if this funky, eclectic, one-of-a-kind city is the place for you.
Thinking about Buying or Selling your Home in Austin or Surrounding Austin Metro Areas?
Contact your
local RE/MAX real estate agent
and get your Austin Texas real estate listed. I am a Local Texas real estate expert.