Listing Your Home in Winter
Posted by Christopher Arnell on Monday, September 12, 2022 at 6:00 AM
By Christopher Arnell / September 12, 2022
Comment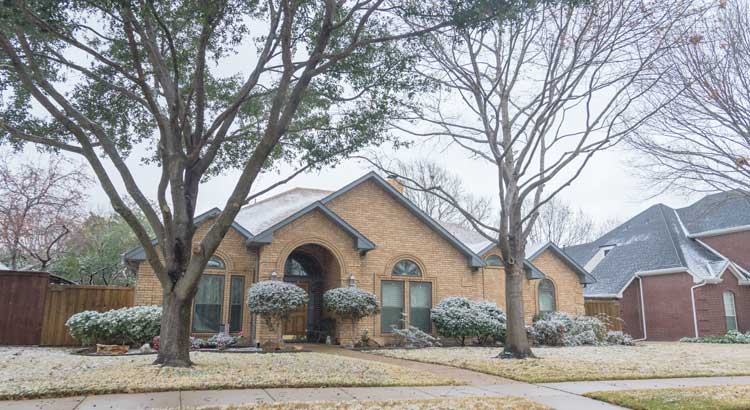 You may have heard that the best time to sell your house is in the spring. This is what conventional wisdom says, perhaps along with that one person in your life who is always giving you unsolicited advice. There are a lot of reasons that spring is often said to be the perfect time to put your house on the market. People are out and about more when the weather is warmer, there are plenty of buyers looking to get into new homes and spring makes your yard looks great, so curb appeal is no problem. All of this supposedly translates into quicker, easier sales. However, is this really true? Many experts say that there are some often overlooked advantages to selling in the winter.
Competition is Lighter
"You have to sell your house in the spring," someone may have said to you. "That's when everyone sells their houses." What's wrong with this logic? If this is when everyone is selling, doesn't that mean that people who are coming to look at your house are looking at a bunch of other houses, too?
In the spring, there's a lot more inventory on the market, but that just means it's more likely that the buyers can pick and choose and the sellers are in a more difficult position. In the winter, buyers just don't have as many houses to choose from. The buyers are more serious in the winter as well. Springtime brings out the people who are just dropping into open houses for fun or who may or may not be in the market for a new house depending on what's out there. Maybe you won't get as much interest because people tend to hunker down at home when it's cold out, but do you want to hear from anyone who isn't already likely to buy a house in the first place? You don't actually need swarms of people trooping through your house; you just need to connect with the one person who really wants it.
Another advantage of smaller inventory is that lenders aren't as swamped as they'll be in the spring. That means that the approval side of things can go faster, allowing you to avoid some of the delays you might face if you waited a couple of months. There is also some data that indicates that in the winter, sales happen more quickly and sellers get more money for their homes than they do at other times of the year.
Showing Off Features
Promoting curb appeal in winter can be something of a challenge since in most climates, potential buyers will be looking at bare trees, dead plants and a fairly monochrome landscape. On the other hand, there really are some advantages, particularly if you live in a cold climate but even in milder regions. If it's near Christmas, the lights can make your neighborhood look warm and friendly. This can also be a great time to show off winter features, such as a fireplace, or how well the furnace works, good snow melt conditions from the roof or overall energy efficiency. Focus on highlighting these elements. This is a great time to tout the advantages of your solar panels, smart thermostats or new insulation.
And some houses really do just look better in the winter than they do in the warmer months. Make sure that your walkways are shoveled if you live in a snowy areas. Your entryway should still look well-cared for, and nice lighting or new house numbers can spruce things up further. For staging purposes, think about some of those warm winter baking smells, such as cloves and cinnamon, that you can fill the house with before potential buyers visit. Read up on the concept of "hygge" to get additional ideas about how to make your winter home as cozy and inviting as possible.
The Winter Calendar
When are the most babies born? September is a big month for births, meaning that after the first of the year, with the first flurry of newborn exhaustion plus the holiday season behind them, parents may be searching for more space. When do most business relocations take place? January and February are busy months for this. People who are moving for their work may be particularly motivated to move the buying process along since they are trying to get themselves and their family settled and acclimatize themselves to a new office, so they don't have time to drag their feet over making a decision and closing on the home. Another advantage as far as the calendar goes is that in industries that offer bonuses, these are usually paid at the end of the year, meaning you've got a lot of buyers with extra cash to put toward your home. They may be first-time buyers, or this might be the opportunity for them to upgrade.
A Dedicated Agent
In the spring, you might be one of several clients a real estate agent is working with. In the winter, they may be better able to give you their full attention. That's not to say that agents won't do a great job in the spring, but there's simply going to be less work for them in the slower months, and that translates to more personal attention for you. This might be an especially attractive benefit to you if you're a first-time seller and you think you might want more hand-holding than the average client. Ultimately, your agent is likely to be able to dedicate themselves more to marketing your home and finding the right buyers when they don't have as much work to do.
You can't always control when you need to sell your home, and there are many factors that you'll need to consider as you decide when to put it on the market. However, some people dismiss the possibility of winter altogether without realizing just how many advantages there can be to this season. Maybe moving with kids in the middle of the school year isn't ideal or you'll have to spend more time shoveling walkways and spreading salt than ever before, but after weighing the pros and cons, you may very well decide that a winter home sale is ideal for your situation. Talking to a local real estate professional may help you determine the best course of action for you and your family.