What Is the Difference Between a Broker and Real Estate Agent?
Posted by Christopher Arnell on Wednesday, January 18, 2023 at 2:48:54 PM
By Christopher Arnell / January 18, 2023
Comment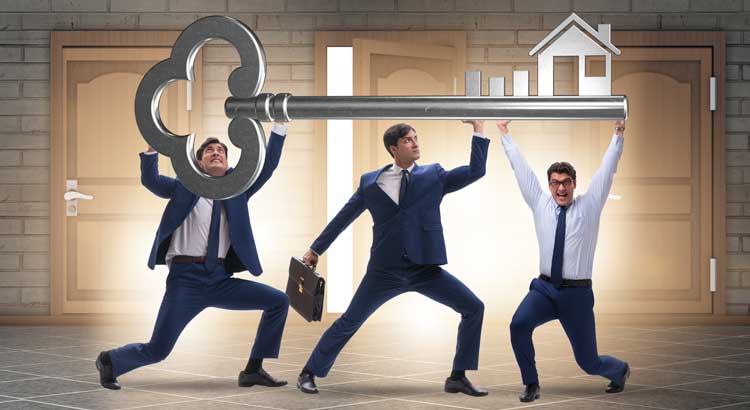 Do you need a real estate broker or a real estate agent? Unless you actually work in the real estate industry, you probably answered that question with a question of your own: "What's the difference between a real estate broker and an agent?" Many people are familiar with the title of real estate agent and may not be aware that real estate brokers also exist or may assume that the two professions are interchangeable. In fact, the two are not the same, and it's helpful to know the difference whether you are getting ready to buy or sell a home.
Agents and Brokers
The first thing you should know about the two is that they can both help you get your home on the market or find a home to purchase. Brokers may have more experience than agents, and in some but not all cases, there may be a couple of advantages to using one over an agent. However, an experienced real estate agent who understands your needs and wants to work hard to get you the right deal is better than a real estate broker that you lack a rapport with.
What Are Real Estate Agents?
Real estate agents are licensed to help people buy or sell a home. Although there are a few minimum requirements found nationwide, such as a lower age limit of 18 or 19 and a requirement to be a resident of the U.S., what this licensing consists of varies from state to state. For example, a real estate agent in Austin needs 180 hours of education since this is what is required in Texas. In other states, such as Virginia with just 60 hours, the training may be less.
Once an agent has completed any educational requirements and passed the exams mandated by the state where they work, they can join a brokerage and begin working as a real estate agent.
They may be either buyer's agents or seller's agents. The former helps people who want to purchase the property. The latter, sometimes also called a listing agent, helps people who are selling property. Agents must have a licensed real estate broker as a sponsor.
There's a lot more to the job of an agent than just matching people with the right house or helping a seller get their property on the market, as important as that is. A listing agent understands the local market and what types of properties buyers are looking at. This means that they can help the sellers decide on a price and may be able to make suggestions about improvements that can increase the speed and profit of a sale. A seller's agent can also advise clients about what not to spend money on when they are getting the house in order to put it on the market.
Seller's agents can help in locating potential buyers, finding the right places to list the house, staging to make the home look as attractive as possible, and negotiating the final deal. They also ensure that the contract is consistent with the wishes of the seller.
Buyer's agents help their clients find the home they're looking for based on their knowledge of the local area and clients' criteria. They can assist in helping buyers find lenders and inspectors and with contract negotiation. They can also use their professional expertise to help buyers adjust their expectations about the process and the type of home they will be able to purchase.
Both types of agents are there to help their clients through the process, assist them in better understanding current market conditions and what that means for them, answer questions they have along the way, and generally move the process along as smoothly as they can. Agents' familiarity with the specific area where they work is valuable. For example, Texas homes for sale will vary a great deal among cities. The agent who was perfect for you in Austin probably can't help you find a house in El Paso.
Both buyers' and sellers' agents work on commission based on the sale of the house.
What Are Real Estate Brokers?
Real estate brokers perform many of the same functions as real estate agents, but they have additional education and licensing. They also must have several years of experience as an agent before they can obtain this license.
As is the case with realtors, state licensing requirements vary. Brokers working in Austin real estate must have 270 hours of real estate courses and another 630 hours of related courses under Texas law. This may include courses in contracts, finance, construction, investments, law, architecture, and more. They must also have four years of recent experience and must take an exam.
This means that real estate brokers tend to have a much deeper and wider knowledge of the industry than agents.
You might think of an agent as a kind of entry-level position compared to brokers, but it would be a mistake to think that an agent is automatically lacking in experience and useful knowledge for sellers or buyers compared to brokers. Not all agents aspire to become brokers, and agents can have years or decades of experience that are very useful to clients.
One big difference between agents and brokers is that brokers can work independently. However, from the buyer's or seller's point of view, there may not be a big difference in working with one or the other. One potential difference is that independent brokers may sometimes be able to access listings that agencies cannot. There might also be situations in which their specialized knowledge is helpful to clients.
Types of Real Estate Brokers
Brokers may be associate brokers, managing brokers, or principal brokers, also known as designated brokers.
Associated brokers generally don't have a supervisory role and may in fact work under brokers themselves although this is not required. Their role is similar to agents although they may get higher commissions.
Managing brokers are in charge of administrative staff, daily office operations, and hiring and training new agents. They may also work with clients.
There must be a principal or designated broker in every real estate office, someone who supervises agents and ensures legal compliance.
Both real estate agents and real estate brokers can work with you to buy or sell your home. As a client, the most important criteria for you should be finding someone you feel understands and can help you with your buying or selling goals.
Thinking about Buying or Selling your Home in Austin or Surrounding Austin Metro Areas?
Contact your
local RE/MAX real estate agent
and get your Austin Texas real estate listed. I am a Local Texas real estate expert.